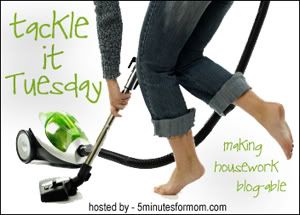 I used to participate weekly in these 'tackle it Tuesday' things and then it fell to the wayside...and with all the nesting I have been doing I feel like maybe I should celebrate and share some of the hard work I have been doing. So I am hoping for the return of Tackle it Tuesday....at least until baby #3 arrives!
As winter has begun here in the frozen tundra of Minnesota, we have had to pull out our winter gear.
That means more than our fair share of mittens, gloves, hats, boots, and scarves. The last couple of years I have used a laundry basket system under our coat hooks. One smaller laundry basket held our shoes and boots and the other laundry basket held other stuff (hats, mittens, gloves, bike helmets, etc). But when it came time to leave the house and grab mittens I was found hunched over digging and swearing (under my breath of course) about why we can't find matches for any of our gear.
A friend, Jessie, shared with me something she found on one of her favorite blogs called,
Organized Junkie
. Jessie ordered one of these
lovely holders
and gave it a try and has found some significant satisfaction with this new way to organize all the winter gear. Looking closer at the Organized Junkie's site I found this post that gives you even more ways to use these hanging holders to organize stuff.
Check this out
!
So a couple weeks ago I put this on my Christmas list and then I decided that it wasn't going to be something I wanted for Christmas. It was something that was going to help our family, and for
$13.99 + free shipping
, I could get it on Amazon - NOW! So I ordered it.
It arrived a week ago and Henry and I finally filled it this morning. For now it hangs over our laundry room door. But Ed is not a big fan of things hanging on the doors so I am going to have him mount it on the wall behind the door. I know it isn't pretty or cute. But it is going to rock our world when it is time to leave and the boys have to quickly grab their hat and mittens.
I am prepared that they aren't going to put things away in the right spot, and I don't want them to when their mittens are wet. But, when we are about to leave the house and we are searching for mittens and hats - and I am starting to lose it...especially right now bending over and digging through the laundry bin we have used in the past, I can see this solving lots of problems.
I plan to take clothes pins to clip the wet stuff on the outside of the pockets to dry.
Jessie has found hers to be very useful and successful! WOO HOO!
It also allowed me to get rid of one of the bins that sat under the coat hangers so now the winter boots have a place to sit instead of where they are dropped.
We'll see how this works. In the summer we can put shin guards, sunglasses, sunscreen, bug spray, swim suits, hats, etc. The possibilities are endless!
What will you tackle today?
This post is linked to
5 Minutes for Mom's Tackle it Tuesday
post.